Zomborg

General Information
Genes
Ability
Drain Life
HP
1073
Speed
4.55
Breedable?
Yes
Zomborg is a Rare Necro-Cyber mutant, that you can get early on the game. The 'easiest' way is cross-breeding a Zombie and Robot. It's also a specific parent for Bushi.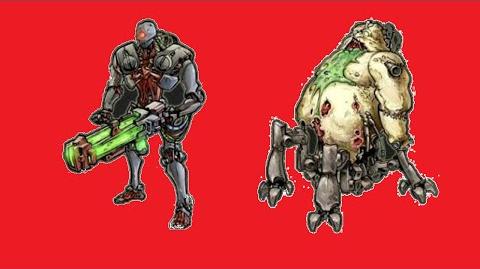 Appearance
Zomborg is a grotesque and fat zombie with its upper body attached on a mechanical base with tripod-liked legs. It always spews out green fluid that stay on its chest.
Stats
Attack: High
Life: Average
Speed: Intermediate
Attacks
Chuckling Chuck-Up

Fist Throwing
Mutopedia Entry
"Somebody knows what they're doing; but I would never have guessed that kids' favorite mutie clown - Zomborg from the hit pre-teen show 'Spew You' - would make it on the international arena circuit! A lethal competitor and an all-round performer, young and old love to see his antics. Oh Zomborg, what will you do next!?!"
Trivia
This mutant's design is an obvious reference to Bloat Thrall in Warmachine.

Furthermore, this mutant may be a reference to Urgot in League Of Legends either, who seemed is a reference to that.

Its name is a combination of zombie and cyborg.
Gallery
Larva

Ad blocker interference detected!
Wikia is a free-to-use site that makes money from advertising. We have a modified experience for viewers using ad blockers

Wikia is not accessible if you've made further modifications. Remove the custom ad blocker rule(s) and the page will load as expected.