Zena is a Legendary Saber-Saber mutant. It was initially sold in the Gold version in the shop for 2,000

, then in its basic version for $4.99.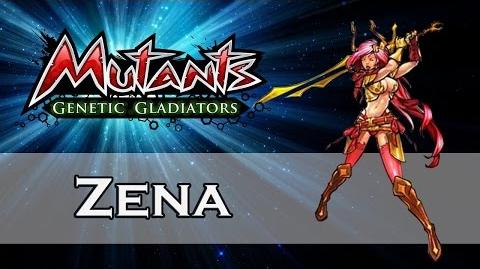 It is also obtainable in the Space Wars Reactor in an alternate Silver version.
Appearance
Zena is a female warrior in armor who wields a two-handed sword.
Stats
Attack: Very Low
Life: Weak
Speed: Lightning
Attacks

Asleep Excalibur

Durendal
Biography
The Nordic Knightmare getting more and more popular, the marketing department of the Ultra League got the idea of introducing a sister in arms just for him. So was created Zena, as sexy as she is dangerous. Some say her sword was forged from Ascalon, the mighty weapon which floored a thousand dragons.
Trivia
She is a nod to Xena: Warrior Princess.
The Gold elite version might be a reference to Red Sonja  character.
The basic version has a resemblance with Gabrielle in the series Xena: Warrior Princess.
Her reactor version looks like a genderswaped version of Luke Skywalker, from Star Wars.
She is one of the first Legendary mutants to appear in a Reactor.
Her Gold version also resembles Rebecca from One Piece.
Her second attack's name is taken from Durendal (or Durandal), the legendary sword of French hero Roland.
Gallery