Yokozuna is a Saber-Saber mutant which can be obtained through ???.
Appearance
Yokozuna is an obese and muscular man with short hair. His hands are covered in bandages. He's wearing green pants, a brown belt, and a pair of sandals. He's wielding a green staff.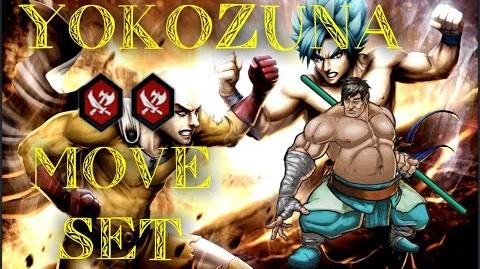 Stats
Attack: Very Low
Life: Weak
Speed: Very Fast
Attacks

Meteor Punch

Earth Shatter
Biography
After abandoning his career in sumo in favor of bodybuilding. He acquired the ability to focus his cosmic energy to defeat his opponents.
Trivia
This mutant's name came from the highest rank in sumo wrestling, Yokozuna
This mutant's Gold version is based on Saitama from the anime One Punch Man.
This mutant's Platinum version is based on Son Goku from Dragon Ball anime franchise.
This mutant's weapon is a reference to Son Goku's signature weapon, the Power pole.
Gallery