Undead Soldier is a Legendary Galactic-Necro mutant that was first seen in the Japan event. Its Gold version was sold in the Shop for 2,000

.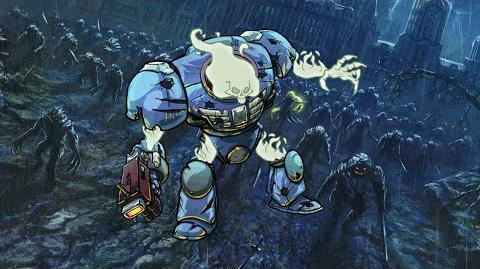 Appearance
A decayed armor filled with a sentient smoke, holds a laser gun on its right hand. The smoke on the head takes on the shape of the skull.
Stats
Attack: Cataclysmal
Life: Tank
Speed: Slow
Attacks

Bolter

Imperium's Puppet
Biography
Died for the greater golry of Imperium, these damned marines have been condemned to fight for eternity their age-old enemies the DNA-stealers, who they believe to battle in the arena, making them merciless.
Trivia
This mutants design was based on Space Marine Terminator Armour or the Ultramarines from Warhammer 40,000.
While the Silver version of this mutant seems to be a referrence to the Terran's Marine unit from Star Craft.

This mutants Gold Version seems to be based on the Blood Angels from Warhammer 40,000.

This mutants original name was "Dead Marine", however this was later changed as there were complaints about it being disrespectful to U.S. troops, especially as it was released around the same time as Memorial Day.

However, the Spanish version of this mutant is still named Dead Marine (it's named Marine Muerto), instead of Undead Soldier.
Gallery