Undead Dragon

General Information
Genes
Ability
Drain Life
HP
1191
Speed
3.57
Breedable?
Yes
Undead Dragon is a Rare Necro-Zoomorph mutant. The easiest way to get one is by breeding a Zombie and a Beast.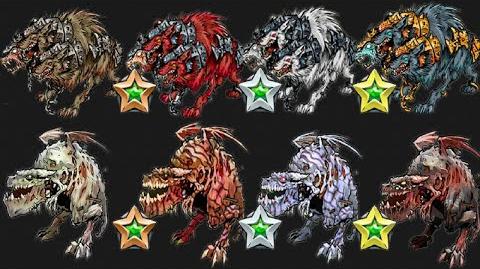 Appearance
Undead Dragon, like its name implied, is a zombified dragon with small wings and big body that had been impaled by arrows and spears.
Stats
Attack: Destructive
Life: Resistant
Speed: Very Slow
Attacks
Blighted Breath

Jurassic Charge
Mutopedia Entry
"The reanimated corpse of a dragon, a ruthless scavenger ready to swoop down upon its prey and savagely rip it to pieces. Its flames of acid do most of the damage, annihilating its enemies."
Trivia
This mutant might have been based of the Draco Zombie From Fire Emblem: The Sacred Stones, while its skill Blighted Breath is similar to the skill Wretched Air.
This mutant's Necro attack Blighted Breath changes color of its breath, depending on what Elite version of it is.
Gallery
Larva
Ad blocker interference detected!
Wikia is a free-to-use site that makes money from advertising. We have a modified experience for viewers using ad blockers

Wikia is not accessible if you've made further modifications. Remove the custom ad blocker rule(s) and the page will load as expected.