Triple-B is a Legendary Necro-Cyber mutant. It is also the 12th Legendary mutant to be released. As with other Legendary mutants, you can breed duplicates or elite versions by cross breeding itself with another mutant sharing at least one of its genes.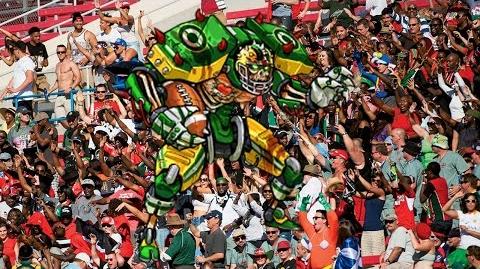 Triple-B was also obtainable in the Villains Reactor and can be breed but only in a certain event like a breeding event for these legendary mutants.
Appearance
Triple-B is a zombie football player though he only regains his head and his upper body. His other body parts were replaced by mechanical limbs such as his arms and legs with visible skeleton. He's carrying a football that has spikes on it.
Stats
Attack: Cataclysmal
Life: Tank
Speed: Very Slow
Attacks

Blitz

Offensive Charge
Biography
Blitz the Bone Breaker AKA Triple-B is the combination of DNA from the biggest and hardest hitting Football players of the past 10 years. Initially planned for use in a new Mutant Football sport, he was determined to be far too brutal and instead is being unleashed into the arena.
Trivia
Its Gold version is a reference to the zombie football player in the Plants vs. Zombies game.
Its reactor version is a reference to Bane from DC Comics.
After Oct. 22nd 2016, the damages of this mutant's each attacks has been increased.
Gallery
Larva