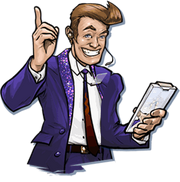 Trevor Reed is one of the announcer characters that appear in Mutants: Genetic Gladiators. He is one of the PvP presenters and is shown with Missy on the Mutants Global Tournament splash screen.
Appearance
Edit
Trevor Reed wears an elegant suit and tie with an announcers headset and carries a see through clipboard.
Occupation
Edit
Trevor Reed is one of the Mutants Global Tournament announcers and does interviews with Eva and Darwin throughout the campaign challenges.
Ad blocker interference detected!
Wikia is a free-to-use site that makes money from advertising. We have a modified experience for viewers using ad blockers

Wikia is not accessible if you've made further modifications. Remove the custom ad blocker rule(s) and the page will load as expected.