The Chimera

General Information
Genes
Ability
Retaliate
HP
1410
Speed
3.7
Category
Breedable?
Elite Versions Only
The Chimera is a Legendary Zoomorph-Mythic mutant can be obtained by buying The Chimera Pack for 2,200

, which contain the basic and Gold Version.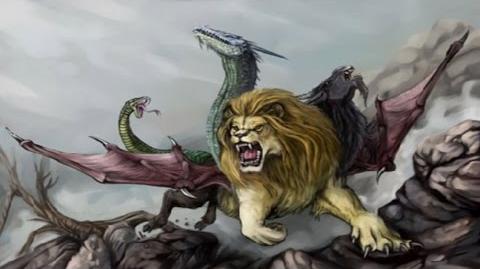 Appearance
Edit
The Chimera is a lion with a snake for a tail, with hairs covering its front legs, hind legs and near the tail. It has lion paws for front legs and goat hooves for hind legs.
In later versions, it gains horns, wings and markings on its body.
Attack: Destructive
Life: Tank
Speed: Slow

Deadly claws

Deadly maw
Mutopedia Entry
Edit
"This lion head and snake tail animal has been created from the famous creature of greek mythology. It is as fantastic and evil with just one instinct: Fight as much as possible and kill as many mutants as it can."
A clear nod to Chimera the mythologic beast.
This mutant is originated from the first place of the Community Mutant Contest which contestants designed new mutants, the second place is Monkey King, whilst the third place is Kraken.
Ad blocker interference detected!
Wikia is a free-to-use site that makes money from advertising. We have a modified experience for viewers using ad blockers

Wikia is not accessible if you've made further modifications. Remove the custom ad blocker rule(s) and the page will load as expected.