Tengu is a Legendary Necro-Zoomorph mutant which is only obtainable by completing the Gold Breeding table in Mutants Bingo, or through the Super Mutants Slots.
In August 2016 for the third anniversary of the game it was sold in its Gold version in Shop for 2,000

for a limited time.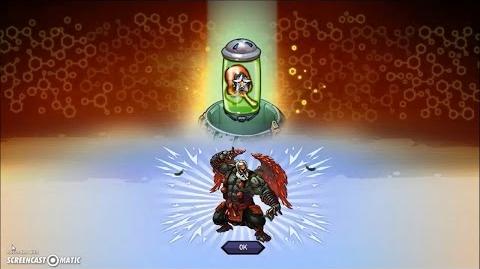 Appearance
Appears to be a heavy-set and muscular humanoid demon with red skin, an elongated nose, and claws on his hands and feet.
Stats
Attack: Very High
Life: Resistant
Speed: Slow
Attacks

Ch'i Blast[1]

Sky Punishment[2]
---
↑

Tengu jumps up in front of the enemy. While midair, his vicinity darkens as he charges up ch'i. The ch'i blasts the enemy, hence the attack's name.

↑

Tengu performs his taunt animation then a giant foot (looks like his) proceeds to stomp on the enemy.
Biography
Psy Captain, your sponsors have been really impressed by your will! Breeding all of these mutants has not been an easy adventure! Darwin is proud to offer you one of the most unique and his favorite specimen: Tengu! This demon has an infinite knowledge of the martial arts and is also the protective spirit of the arena. Your enemies will learn to fear its destructive combo!
Trivia
Inspired by the Tengu, legendary creatures of Japanese folklore.
This mutant has the highest retaliation damage in the game. It is the only mutant in the game to have 60%(40% prior to level 25) of it's attack inflicted as Retaliate damage, whereas the normal damage percentage is only 25%.
This mutant appears as the 2nd wave boss in the Floating Tokyo stage of the Supra and Mega divisions.
Gallery