Star Trooper

General Information
Genes
Ability
Boost
HP
812
Speed
11.11
Category
Breedable?
Yes
Star Trooper is a Legendary Galactic-Saber mutant. Initially it was made available as a chance prize in Mutants Slots. It was later sold in the Shop as the Gold version in addition to Master Oida and 15 XP Jars in the Force Pack for 2,499

and then again in the Lightning Packs which included itself, Autonorush, Battle Toad and 15 XP Jars.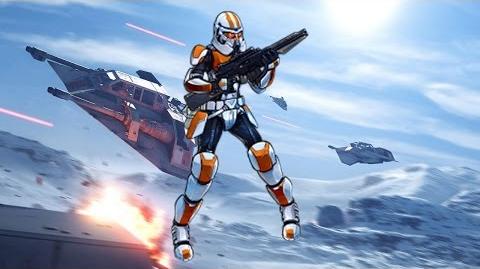 This mutant will also be obtainable in the Villains reactor.
Appearance 
A woman wearing armor on her legs, arms and chest and a gas mask on her face who wields a laser rifle.
Stats
Attack: Very Low
Life: Weak
Speed: Lightning
Attacks

Blaster Rifle

Order 66
Mutopedia Entry
"From a galaxy far far away. Star Troopers are normally considered no more than cannon fodder for power hungry Emperors,but this Star Trooper is special, despite being a little short, she has strange powers of force and having escaped the clutches of the Emperor, she has begun to fight back. She could be our only hope..."
Trivia
The Gold version of this mutant resembles the Stormtroopers from Star Wars franchise.
The platinum version resembles the Clone Troopers from the Star Wars franchise, specifically RC-1138.
It's Order 66 attack is an obvious reference to Star Wars' Order 66, which was a command from the Emperor to the Clone Troopers which deemed all Jedi as traitors and called for their immediate execution. The same hologram image of the Emperor is used as well before executing the attack.
Galactic Emperor is seen in the hologram projection it reveals before it unleashes it Order 66 attack.
The Super Villain version is a nod to Mystique from Marvel comic and X man franchise
Gallery
Ad blocker interference detected!
Wikia is a free-to-use site that makes money from advertising. We have a modified experience for viewers using ad blockers

Wikia is not accessible if you've made further modifications. Remove the custom ad blocker rule(s) and the page will load as expected.