Slashog is PvP/PvE exclusive Zoomorph-Galactic mutant.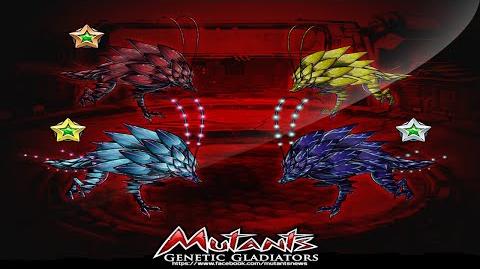 Appearance:
Appears to be a Pangolin with two antennae on its head.
Stats
Attack: Very Low
Life: Weak
Speed: Very Fast
Attacks

Spin Dash

Electroshocks
Biography
Slashog joined the arena after turned down for a role in a popular creature collecting game. his anger at being rejected makes him a deadly opponent.
Trivia
This was supposed to be the mutant reward for PvP Season 20 but was changed to Anubis instead.
His appearance is based off of Sandslash from the Pokemon series, but his Electroshocks attack was inspired by Pikachu, also from the Pokemon franchise.
He may also be a nod to Sonic the Hedgehog in it's Silver form, as it shares the same color and its Spin Dash attack is similar to that of Sonic's spin dash. Also the platinum version is based from the Super Sonic Form.
Gallery