Rakshasa is a Rare Zoomorph-Saber mutant. The 'easiest' way to get one is by breeding a Beast and Warrior.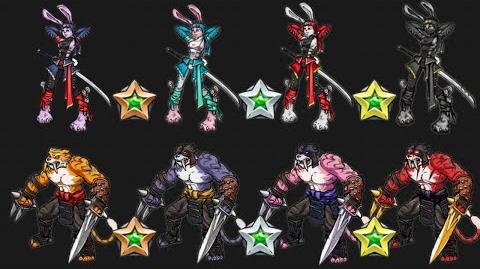 Appearance
Rakshasa looks like a humanoid tiger, wearing black pants. He wields two weapons in a battle, a Katar and a Bahg Naka.
Stats
Attack: Very Low
Life: Weak
Speed: Very Fast
Attacks

Ferocious Kick

Singing Swords
---
Biography
From the mysterious mountain labs of Indo-Asia comes Rakshasa. Blending traditional fighting styles with his genetically brewed build is something to behold. Very few live to see another sunrise after a bout in the arena with him!
Trivia
Largely based off of a Hindu legend of the same name. Unlike said myth, however, the Mutant Rakshasa does not have inverted hands.
The Mutant Reactor "Gothic" version pays an hommage to Mike Mignola's famous character Hellboy.
All his forms, except Reactor and Boss, strongly resemble Rengar from League of Legends, with different colors.
Gallery