Planet Cleaner

General Information
Genes
Ability
Boost
HP
1187
Speed
3.57
Breedable?
Yes
Planet Cleaner is a Rare Galactic-Cyber mutant. The 'easiest' way to get one is to breed an Alien and a Robot.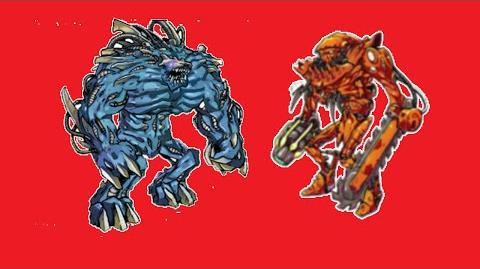 Appearance
The Planet Cleaner is a mutant with a plasma blaster and a chainsaw instead of hands. It also has two pairs of claw like appendages on the chest and its back which are used during the improved secondary attack as kind of ninja shuriken. The chainsaw is used as weaker secondary version where the plasma blaster is used in its basic primary and advanced primary version.
While its face is roughly visible in its basic version, bronze and silver versions wear helmets of different designs.
Stats
Attack: Destructive
Life: Resistant
Speed: Very Slow
Attacks

Disintegrator

Techno Rage
Mutopedia Entry
"You wouldn't want this guy to tickle you, but there's nothing quite like wathching him run his diamond tipped blade through somebody else. I got to say I prefer my maid but the planer cleaner does an impressive job of mopping up in the arena."
Trivia
The Silver Star version of Planet Cleaner bears a resemblance to Samus Aran, the heroine from Nintendo's Metroid franchise.
The Silver Star version also bears a resemblance to the mutated form of the SA-X, the main antagonist from Metroid Fusion.
The Boss Version resembling an T-100 to the saga Terminator.
The Gold version resembles The Predator from the Predator franchise.
Gallery
Ad blocker interference detected!
Wikia is a free-to-use site that makes money from advertising. We have a modified experience for viewers using ad blockers

Wikia is not accessible if you've made further modifications. Remove the custom ad blocker rule(s) and the page will load as expected.