Plague Witch is a Legendary Necro-Necro mutant and can be obtained through the Exchange Office.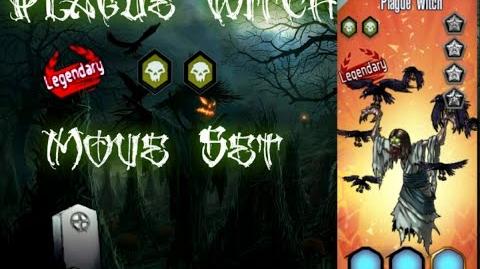 Appearance
Edit
The Plague Witch is a greatly decomposed, female corpse with with pale, green skin, greasy brown hair, in a tattered, white dress surrounded by a flock of crows or ravens. Two of these birds suspend her in the air by her wrists, much like a marionette puppet.
Attack: Low
Life: Average
Speed: Fast

Putrid Spit[1]

Tomb's vision[2]
---
↑

Some of the birds flying around her fly into the enemy in a kamikaze fashion.

↑

Her eyes glow causing three graves of varying sizes to sprout from under each enemy. The graves explode afterward.
Biography
Edit
Born from disease and pestilence, this monstrous witch roams at night in villages, leaving only corpses eaten away by insects behind her.
Her appearance could be based on indonesian urban legend Kuntilanak.
This mutant is part of the Tropical Summer reactor collection.

The reactor version is silver quality.