Nameless King is a Legendary Saber-Galactic mutant which was bought through the 89.99$ offer in the bank. On September 21st 2016, the Gold version is available for buying for 1,800

.
Appearance
Appears to be an armored and orange haired male humanoid alien. He wears a scarf which covers his entire face and a loincloth. He's wielding a spear on his right hand.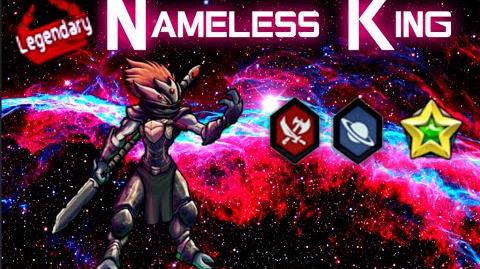 Stats
Attack: High
Life: Resistant
Speed: Intermediate
Attacks

Dragonslayer

Skylight
Biography
While losing his humanity, this king of the old kingdom also lost his name. Feared by his people, he hunted the dragons which threatened his land himself until the day he decided to switch sides.
Trivia
This mutant was originally released as Nameless Queen but was renamed Nameless King September 2016.
This mutant is clearly inspired by the Nameless King from Dark Souls III
Long before his release date this mutant's appearance is really different from his current appearance when some tester discovers him via datamining (you can see the original designs in gallery below). After that, few days before his release date he received a redesign which is currently his current appearance in the game.
Gallery