Medusa

General Information
Genes
Ability
Curse
HP
1078
Speed
4.55
Category
Breedable?
Yes
Medusa is a breedable Mythic-Zoomorph mutant. The 'easiest' way to get one is to Cross-Breed a Demon and a Beast.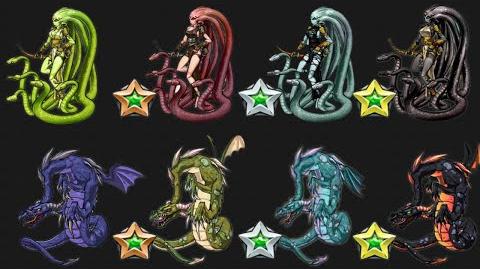 Appearance
Medusa, like her name implied, is a Greek mythological creature can turns everyone with her looks. She has snake-hairs which she uses them like support to lift herself up and she also commands to do her bidding in both upgraded attacks. She also has a large eye on her forehead which she uses to summon rocks in her first attacks. She's also carrying a bow which she can use in her second attack and in conjunction with her snakes' poison spit in her upgraded second attack.
Stats
Attack: High
Life: Average
Speed: Intermediate
Attacks

Stoney Gaze

Hydra Poison
Mutopedia Entry
"A sinister otherworldly beauty the medusa has beguiled many with her allure before swiftly ending their pathetic existence. Her bow isn't cupid's and there's poison in ther caress, I didn't know my ex-wife was competing!"
Trivia
Resembles Naga from DOTA and World of Warcraft.
In Greek mythology, Medusa was the name of a creature cursed by the goddess Athena to turn everyone who looked at her into stone.
Gallery
Ad blocker interference detected!
Wikia is a free-to-use site that makes money from advertising. We have a modified experience for viewers using ad blockers

Wikia is not accessible if you've made further modifications. Remove the custom ad blocker rule(s) and the page will load as expected.