Master Paw

General Information
Genes
Ability
Curse
HP
3683
Speed
3.45
Category
Breedable?
No
Master Paw is an Exclusive Mythic-Zoomorph mutant which can be obtained by buying him for 1,500

in Shop.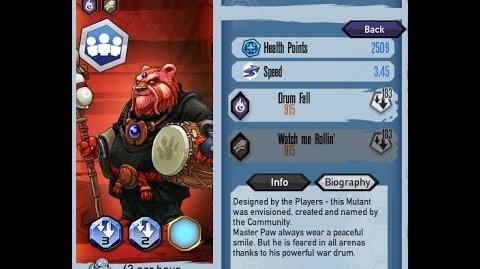 Appearance
Master Paw is a red bipedal bear wearing a black robe with a red belt and a necklace with sapphire in it. He holds a staff with some things tied to it as well as a taiko (drum) painted with a paw print.
Stats
Attack: Apocalyptical
Life: Juggernaut
Speed: Very Slow
Attacks

Drum Fall
Damage: 1342 [1]
Upgrade: 2016

Watch me Rollin'
Damage: 1342 [2]
Upgrade: 2016
---
↑

He repeatedly hits his drum with his staff and each hit causes a drum to fall on the enemy.

↑

He hops on his drum to roll over to the enemy to jump on them with it multiple times.
Mutopedia Entry
"Designed by the Players - this Mutant was envisioned, created and named by the Community.
Master Paw always wear a peaceful smile. But he is feared in all arenas thanks to his powerful war drum."
Trivia
This is the first mutant to be designed by the community.
Gallery
Ad blocker interference detected!
Wikia is a free-to-use site that makes money from advertising. We have a modified experience for viewers using ad blockers

Wikia is not accessible if you've made further modifications. Remove the custom ad blocker rule(s) and the page will load as expected.