Master Oida is a Legendary Galactic-Galactic mutant which was available in the Shop for a limited time.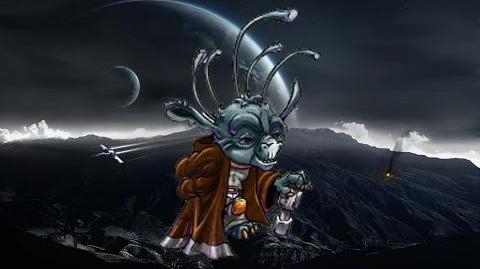 Appearance
Appears to be a short dark blue skinned alien with five antennae, four arms, elongated ears and primate-liked features on the face. It wears a spacesuit which covered by a brown cloak with silver lining. It wields a laser gun like a walking cane.
Stats
Attack: Low
Life: Average
Speed: Very Fast
Attacks

Mirage of Weakness

Destroy You I Will
Mutopedia Entry
Not much is known about Master Oida, it appeared seemingly out of nowhere at a Mutants Recruitments Academy. At first, no one took this small and weak looking mutant seriously, until it defeated the Academy's Head Trainer without even breaking a sweat.
Trivia
A nod to Master Yoda from Star Wars franchise.
Can also be a reference to Stitch/Experiment 626 from Lilo and Stitch because of its fur, 4 arms, antennae and laser gun, especially the Platinum version.
Gallery