Lichlock

General Information
Genes
Ability
Drain Life
HP
867
Speed
9.09
Category
Breedable?
Elite Versions Only
Lichlock is a PvP/PvE exclusive Necro-Mythic mutant. It is also obtainable in the Steampunk Reactor.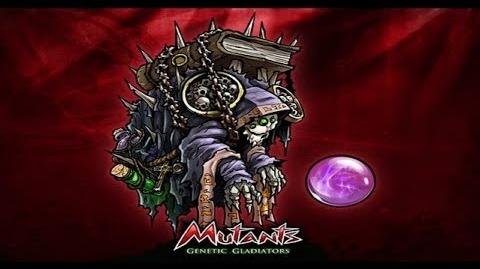 Appearance
A floating skeletal-looking warlock in a purple robe. It has a spellbook that is chained and pierced by the spikes on its back, two emblems on the side of its head which have skulls on them, and a few items on its side which appear to be a flask, a cross, and a glowing test tube. It also has a glowing floating sphere in front of its hands.
Stats
Attack: Very Low
Life: Weak
Speed: Very Fast
Attacks
Death Omen

Mythic Strike
Mutopedia Entry
"An undead warlock with some powerful magic under his hood. This is no magician, the Lichlock is the master of sorcery and the funnel of dark magic. Unleash him on your opponent's mutants and watch the destruction that will follow."
Trivia
This was the first PVP Mutant to be included in a Mutant Reactor (The Steampunk).
The emblems it has on its sides correspond with the color of the star that was used in its crossbreeding.
Gallery
Larva

Ad blocker interference detected!
Wikia is a free-to-use site that makes money from advertising. We have a modified experience for viewers using ad blockers

Wikia is not accessible if you've made further modifications. Remove the custom ad blocker rule(s) and the page will load as expected.