Kitty Ranger

General Information
Genes
Ability
Wound
HP
1046
Speed
6.67
Category
Breedable?
Elite versions only
Kitty Ranger is a Legendary Cyber-Zoomorph mutant which can be obtained by buying the basic version for 1,100

and Gold version in 1,800

in the Shop.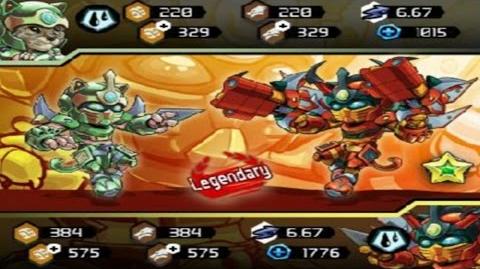 Appearance
Appears to be an anthropomorphic cat wearing a cybernetic armor suit.when activating his full armor mode or executing his attacks his face is covered with the armor's mask and he's wielding 2 cyber guns
Stats
Attack: Low
Life: Average
Speed: Fast
Attacks

Meow Pow

Tiger Fangs
Mutopedia Entry
"Formerly member of a galactic ranger team. Kitty Ranger now starts a solo career. Since his arrival, he won his fights thanks to his bionic armor and his huge war robot."
Trivia
Gallery
Ad blocker interference detected!
Wikia is a free-to-use site that makes money from advertising. We have a modified experience for viewers using ad blockers

Wikia is not accessible if you've made further modifications. Remove the custom ad blocker rule(s) and the page will load as expected.