Kitty Perry is a Legendary Galactic-Zoomorph mutant which can be obtained through the Shop for 600

.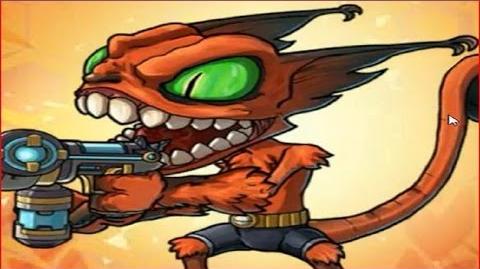 Appearance
Edit
It appears to be an anthropomorphic orange cat with large ears and long tail with black-colorings at the end, three fingers and toes, and pair of large green slit eyes. It wears blue pants with a yellow belt and a spherical buckle, and carries a size-shifting cyber gun.
Although its mouth seems small, it's actually much bigger, and it can be seen fully when he fires his gun.
Attack: Low
Life: Average
Speed: Fast

Oneshot, 7 Injuries

Acrocat
Biography
Edit
While this puss wears no boots, it can fire off attacks faster than you can blink. Its fur is soft, but you would be poorly inspired to try hugging it.
The name is a obvious reference to Katy Perry.
It could be based on the character Ratchet from Ratchet and Clank series.