King Steven is a Legendary Galactic-Cyber mutant. It was sold in the Shop in its basic version for $4.99 USD and in its Gold version for 2,000

.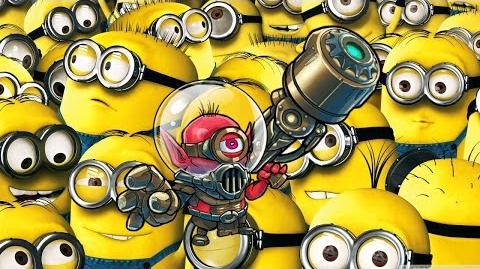 Appearance
It's a red-skinned cycloptic midget wearing a monocle-styled goggle and having elven ears under the eye. It has a bald head with only three strands of hair standing on top of its head. It wears armor with a bubble helmet and some sort of respirator connected with the helmet. It's holding a massive gun on its left hand, while its right hand is wearing a gauntlet.
Stats
Attack: Medium
Life: Average
Speed: Fast
Attacks

Pisto Guns

Tada! Invasion
Biography
Nobody really knows where they come from, but this immortal race has been both disturbing and entertaining everyone for centuries. While all of its fellow subjects follow their artistic dreams, the one and unique King Steven chose to keep on fighting alongside the most evil and most powerful Psy Captain in the Arena!
Trivia
This mutant's design is an obvious reference to Minions in Despicable Me, the movie series.
This mutant is the first Galactic mutant to have the Retaliate ability.
Gallery