Honey Bunny

General Information
Genes
Ability
Retaliate
HP
765
Speed
10
Category
Breedable?
Yes
Honey Bunny is a breedable Saber-Zoomorph mutant. You can cross-breed a Warrior with a Beast in order to have a chance to obtain a Honey Bunny larva. You can also purchase a Honey Bunny larva for

in the Shop.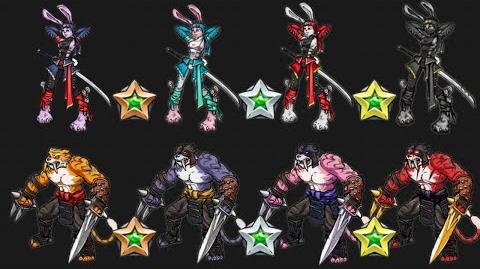 Appearance
Honey Bunny looks like a anthromorphic rabbit in a ninja outfit. It carries a Katana and  has Kunai strapped on its legs.
Stats
Attack: Very Low
Life: Weak
Speed: Very Fast
Attacks

Rabbit's Revenge

Rabbit Rush
Mutopedia Entry
"Some folks like pretty, some like weird, so this honey bunny should appeal to both! This was one late night at the lab when the guys came up with her, but her swordplay is no joke. And in the end folks don't we all like a little strange?"
Trivia
Mutant Reactor version looks similar to Yuki in Iron Knight.
She, along with Bounty Bug, are the only two mutants so far to have been featured in two different Reactor collections (in this case, she appeared in the Girl Power Reactor and the Space Wars Reactor).

Neither of which is a humanoid rabbit. The Girl Power one is a catgirl, and the Space Wars is a human.

Her Space Wars Reactor skin is a reference to Pincess Leia (specifically when Leia was turned into a slave for Jabba the Hut).
It could be a reference to Alice the Rabbit in Bloody Roar series.
The ninja suit worn by the regular version is similar to a shinobi in Naruto.
Gallery
Ad blocker interference detected!
Wikia is a free-to-use site that makes money from advertising. We have a modified experience for viewers using ad blockers

Wikia is not accessible if you've made further modifications. Remove the custom ad blocker rule(s) and the page will load as expected.