High Gravelord

General Information
Genes
Ability
Curse
HP
901
Speed
5.88
Category
Breedable?
Elite versions only
High Gravelord is Legendary Cyber-Necro mutant which can be obtained through finishing the 2016 Halloween Ladder Event.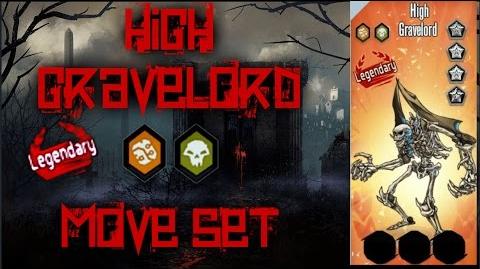 Appearance
Appears to be a skeleton with two giant bone blades attached to its elbow joints.
Stats
Attack: Needs information
Life: Needs information
Speed: Fast
Attacks

Bone Spikes
Soul Feast
Mutopedia Entry
"The flesh already disappeared when a great necromancer revived this demonic tyrant. This incovenience did no seem to disturb him, quite the opposite. These organs were only slowing down the massacre he started during his lifetime."
Trivia
Possibly due to him being a free event mutant, his stats are slightly less powerful than other mutants of his same speed.
Gallery
Ad blocker interference detected!
Wikia is a free-to-use site that makes money from advertising. We have a modified experience for viewers using ad blockers

Wikia is not accessible if you've made further modifications. Remove the custom ad blocker rule(s) and the page will load as expected.