High Gravelord is Legendary Cyber-Necro mutant which can be obtained through finishing the 2016 Halloween Ladder Event.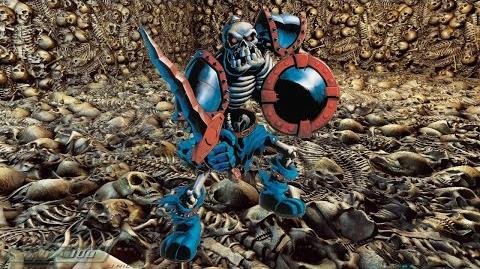 Appearance
High Gravelord is a skeleton with two giant bone blades attached to his elbow joints.
Upon upgrading his elite version, he gains his extra skull along with spikes on his bones.
Stats
Attack: High
Life: Tank
Speed: Fast
Attacks

Bone Spikes

Soul Feast
Biography
The flesh already disappeared when a great necromancer revived this demonic tyrant. This incovenience did no seem to disturb him, quite the opposite. These organs were only slowing down the massacre he started during his lifetime.
Trivia
Possibly due to him being a free event mutant, his stats are slightly less powerful than other mutants of his same speed.
Gallery