Haggis is a PvP/PvE exclusive Saber-Zoomorph mutant.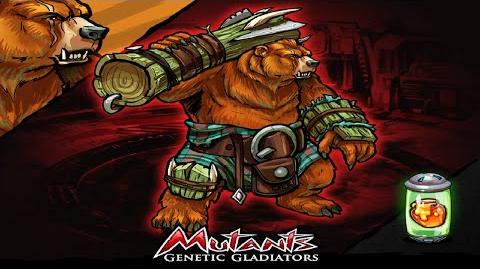 Appearance
A large brown bear, wielding a Caber as a club. He wears several pieces of wood as armor and has a traditional Scottish Kilt and Sporran.
Stats
Attack: Cataclysmal
Life: Tank
Speed: Slow
Attacks

Hand Ballista

Can't Bear It!
Biography
When Baron Urban invited his rival Psy Captains to the special scottish celebration Burns night, they expected to be treated to the traditional Haggis, instead they were ambushed by Baron Urban's latest creation, Haggis the Bear.
Trivia
Haggis is actually a traditional Scottish dish. It is a savory pudding containing sheep's pluck (heart, liver and lungs) some other spices and vegetables and is popularly enclosed in an animal's stomach.
The appearance of Haggis in his basic and Bronze version can be closely related to the movie Brave. Especially the Bronze version depicting the black bear Mordu in the movie.
The Silver Version looks like the bear from The Legend of Korra except without the belt and javelin.
The Gold version resembles Rambo.
Gallery
Breeding Examples