Grannyvore

General Information
Genes
Ability
Drain Life
HP
1380
Speed
3.7
Category
Breedable?
Elite Version Only
Grannyvore is a Legendary Zoomorph-Saber mutant which either can be obtained through the Mutants Slots or bought in the Shop.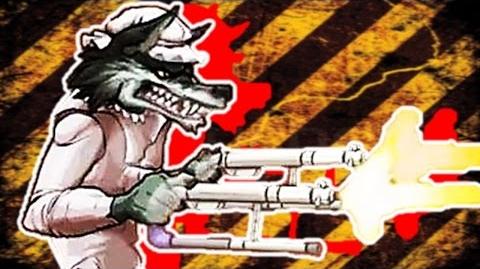 Appearance
Edit
Grannyvore an anthropomorphic grey wolf wearing a bonnet and a sleepwear, and carrying a walker.
Attack: Destructive
Life: Tank
Speed: Slow

Big teeth

Dezzimmer
Mutopedia Entry
Edit
"Make no mistake! This charming grandmother is hiding something. There is a fierce and pitiless wolf hiding under her pretty bonnet! He is very difficult to unmask... The clues: he has big eyes, the better to see you with, big ears, the better to hear you with and big teeth, the better to... devour all the mutants who rise up against him in the arena!"
Grannyvore is obviously based on the Big Bad Wolf character from Grimm's fairy tale Little Red Riding Hood.

Grannyvore's name is nod to the wolf swallowing grandma whole.
His entry mentions clues which refer to Red Riding Hood's description of the wolf when he disguised as her grandma.
Ad blocker interference detected!
Wikia is a free-to-use site that makes money from advertising. We have a modified experience for viewers using ad blockers

Wikia is not accessible if you've made further modifications. Remove the custom ad blocker rule(s) and the page will load as expected.