Genshiryoku is a Legendary Zoomorph-Galactic mutant. It was sold in the Shop in the Genshiryoku Packs for real currency and then in the Gold version for 2,000

.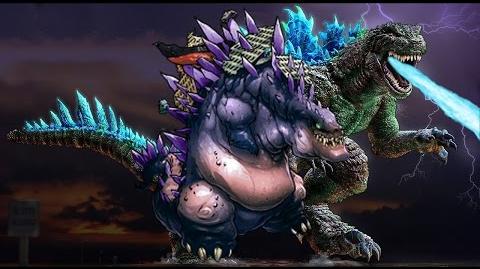 Appearance
Genshiryoku is a large bulky dinosaur like kaiju. It's very disproportional, having small/short limbs compared to the rest of the body.
Stats
Attack: Cataclysmal
Life: Tank
Speed: Very Slow
Attacks

Howl

Radioactive Spit
Biography
Disturbed by the ongoing sounds of fights and explosions, Genshiryoku has woken up and is in a really bad mood. From now on his only dedication will be to silence every single fighter in the arena. Don't think you'll tame him, he's only there for his personal needs and will crush you too if he ever has a chance!
Trivia
This monster first appeared as Evas' tag.
Its appearance may be based on Macrosaurus from Colossal Kaiju Combat.
The Gold version resembles 'Godzilla', including the long spikes on its back.
The Gold version has a zipper.
The basic version looks slightly similar to Humungousaur from Ben 10.
Genshiryoku if translated from Japanese into English is "Nuclear Power" which is make sense since this Mutant based on Godzilla which is also wokened up and empowered by Nuclear explosion or Radiation
Gallery