Fennec Plus Ultra

General Information
Genes
Ability
Wound
HP
1085
Speed
5.88
Category
Breedable?
Elite Versions
Fennec Plus Ultra is a Legendary Zoomorph-Cyber mutant which was available as a bonus when purchasing select gold packs for a limited time.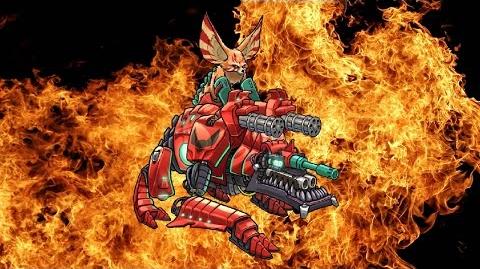 Appearance
Appears to be a fennec fox a top of and piloting a robotic dragon equipped with two mini-guns on its shoulders and cannons on its head and in its mouth.
Stats
Attack: Medium
Life: Average
Speed: Fast
Attacks

Giga bite

Canine Cannon
Mutopedia Entry
"Fennec, as the clever fox he is, buttered Darwin up for the Dragon Mech. After some training and adjustments, Fennec's no ready to cause chaos in the Mutant Arena. Between dragon roars and battle sounds, Fennec's mad crackle can be heard."
Trivia
This mutant might be a reference to Miles "Tails" Prowler from Sonic.
Gallery
Ad blocker interference detected!
Wikia is a free-to-use site that makes money from advertising. We have a modified experience for viewers using ad blockers

Wikia is not accessible if you've made further modifications. Remove the custom ad blocker rule(s) and the page will load as expected.