Exo Cookie

General Information
Genes
Ability
Wound
HP
1312
Speed
3.33
Category
Breedable?
Elite Versions
Exo Cookie is a Legendary Zoomorph-Galactic mutant. It was initially made available in Mutants Slots for a limited time and then sold in the Shop for 2,000

in its Gold version.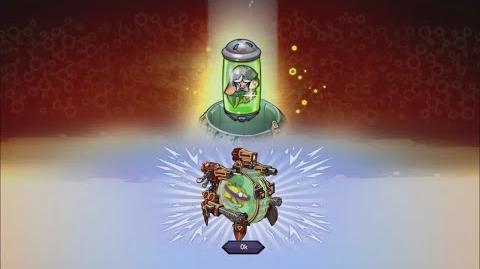 Appearance
Exo Cookie is a hamster running in a futuristic hamster wheel which has four robotic legs and equipped with gatling guns and laser cannons.
Stats
Attack: Cataclysmal
Life: Tank
Speed: Very Slow
Attacks

Wheel of Destiny

High Velocity
Mutopedia Entry
"Exo-Cookie is at the origin of everything in Darwin's life, believe it or not. When he was only 7 years old, he could not bear the idea that his favorite hamster would only live 3 to 4 years tops. Darwin therefore did everything that was in his power to extend its lifespan.
He was surely stunned when he discovered that his first experiment turned his little Cookie into a Hulk-like hamster! Travelling at the speed of light and destroying everything in its way; Darwin had to give him a new name and to build him a suitable piece of equipment. Let's just say that this success opened the way to what Darwin has become.
Exo-Cookie has now entered the arena, he may seem cute but be sure he will be pitiless towards his opponents!"
Trivia
This mutant may have been inspired by the guinea pigs in the animated film G-Force.
Despite its appearance and Mutopedia Entry, this mutant is ironically one of the slowest mutants in the game.
Gallery
Ad blocker interference detected!
Wikia is a free-to-use site that makes money from advertising. We have a modified experience for viewers using ad blockers

Wikia is not accessible if you've made further modifications. Remove the custom ad blocker rule(s) and the page will load as expected.