Excavalypse

General Information
Genes
Ability
Drain Life
HP
2102
Speed
3.33
Category
Breedable?
Elite versions only
Excavalypse is a Legendary Necro-Cyber mutant that can be obtained by purchasing the Casino Pack for $9.99 or the Super Casino Pack for $24.99: one contains the Basic version,

x20, and

x2. The other contains the Basic version,

x6, and

x50. It was later made available in a Mount Olympus PvE event as the reward for completing the ladder.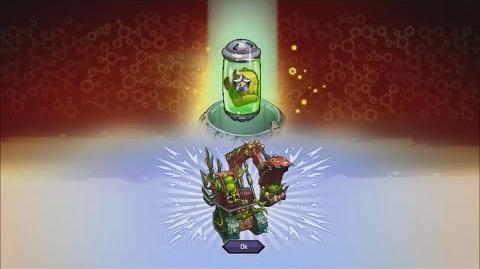 Appearance
Excavalypse is a zombified excavator. The claw being the face, it has spores all over, a growth within the cockpit, and spiked tracks.
Stats
Attack: Apocalyptical
Life: Juggernaut
Speed: Very Slow
Attacks

Stinking Reflux[1]

Mechanical Bite[2]
---
↑

Excavalypse releases a powerful stream of what appears to be green fluid or steam.

↑

Excavalypse bites the enemy three times. Yup. That's it.
Mutopedia Entry
"Experiences on Undead genes are strictly controlled, but it seems like a mad scientist conducted illegal experiments in their garage. The result is a highly dangerous spore that ended up contaminating a construction vehicle, giving birth to this horrific hybrid creature."
Trivia
Its Gold and Platinum version have a larger growth in their cockpits.
The Platinum version is the only known elite version with different coloured treads.
The number of exhaust pipes correlate with its star default having a small pipe, Bronze version having a bigger one, Silver version with 2 pipes, Gold version with 3, and Platinum version with 4.
In all its versions you can see Which in its inner part has a Mark called Dog, doing a parody To the Caterpillar Heavy Vehicle brand.
Gallery
Ad blocker interference detected!
Wikia is a free-to-use site that makes money from advertising. We have a modified experience for viewers using ad blockers

Wikia is not accessible if you've made further modifications. Remove the custom ad blocker rule(s) and the page will load as expected.