Dire Despot

General Information
Genes
Ability
Drain Life
HP
1173
Speed
3.7
Category
Breedable?
Yes
Dire Despot is a breedable Necro-Saber mutant. It is the first mutant obtained via crossbreeding that all players receive at the beginning of the game. This mutant is also found in the Space Wars Collection.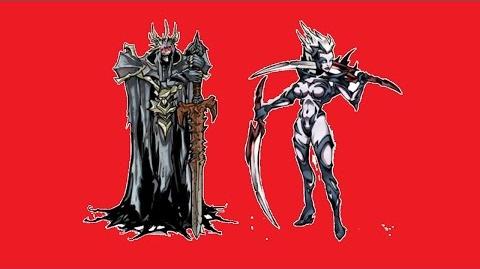 Appearance
The Dire Despot looks like a skeleton with some sort of ripped layer of clothing, shoulder pads and a necklace. He holding a sword and has a crown with spikes. In the Gold form his crown changes to two sharp horns
Stats
Attack: Very High
Life: Resistant
Speed: Slow
Attacks

Spectral Strike

Phantom Blade
Mutopedia Entry
"The Dire Despot reigns without mercy over its domain, spreading death and destruction. It takes unnatural pleasure in its role of executioner. Prepare yourself, judgment will be ruthless!"
Trivia
The Space Wars Collection version of this mutant resembles Darth Vader.
This mutant initially had it's Necro attack as a spread attack, but was later changed to a single hit attack.
According to the stats published by Kobojo, Dire Despot is the most victorious mutant (The most number of kills).
The Platinum Version of Dire Despot resembles the Corrupted Angels in Diablo franchise.
Gallery
Larva

Ad blocker interference detected!
Wikia is a free-to-use site that makes money from advertising. We have a modified experience for viewers using ad blockers

Wikia is not accessible if you've made further modifications. Remove the custom ad blocker rule(s) and the page will load as expected.