A Deus Machina is a Rare Cyber-Mythic mutant. The easiest way to breed it is cross-breed Robot with Demon.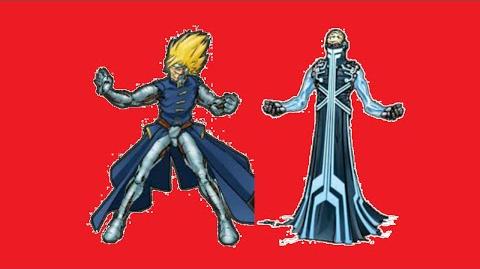 Appearance
Deus Machina is cyber-world human wears a robe with circus-liked design that covers his entire body except for his arms and his upper face. His upper face is wearing some soft of visor and his arms are made of cybernetic energy. He is also seen conjuring interfaces that floating when he's idle. The purpose of these interfaces are unknown.
Stats
Attack: Medium
Life: Average
Speed: Intermediate
Attacks

Pixilizer

Deus Ex Machina
Biography
Our Father who art quantum that Your Domination come. Your program is fulfilled on the network as in the Arena. Destroy our enemies as we destroy those that have offended you!
Trivia
This mutant resembles Jinzo from Yu-Gi-Oh! series.
Gallery
Larva