Dead Bot

General Information
Genes
Ability
Shield
HP
884
Speed
7.14
Breedable?
Yes
Dead Bot is a breedable Cyber-Necro mutant. To breeding these mutant, the cross-breeding pair of Mutants must include Cyber, and Necro genes. Robot + Zombie combination is recommended to get it.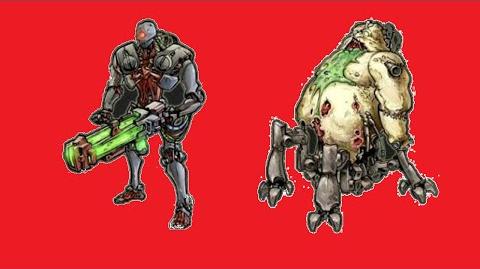 Appearance
Dead Bot looks like a decaying corpse clad in robotic armor covering itss entire body except for its joints, feet and chest, which also reveals an exposed rib cage with a beating heart. Dead Bot is also equipped with a laser cannon with glowing tubes running along each side which contains its bodily fluids and acids.
Stats
Attack: Very Low
Life: Weak
Speed: Very Fast
Attacks

Reverse Matrix Bolt
Mortal Vortex
Damage: 188[1]
Upgrade: 282
---
↑

Dead Bot raises its hand while invoking souls onto the opponent.
Mutopedia Entry
"Necrotic science has enabled man to keep flesh 'alive' long after its expiration date. Combined with cybernetics the armored Dead Bot is a creation with a singe desire, eradicate the living. Drawing from its own bodily fluids, its acid will dissolve even the sturdiest foe!"
Trivia
Originally it's secondary attack was called "Mortal Shockwave" but was later changed to "Mortal Vortex".
A tribute to Terminator from Terminator movies and game.
Also a tribute to Necron Warriors and Necrons Pariah from Warhammer 40k due similarity in their appearance.
The Gold Dead Bot's left flap shows a symbol which has some familiarity to a well known brand logo (although slightly altered).
The Steampunk Version of Dead Bot looks like Samus from the Metroid Series.
Gallery
Larva

Ad blocker interference detected!
Wikia is a free-to-use site that makes money from advertising. We have a modified experience for viewers using ad blockers

Wikia is not accessible if you've made further modifications. Remove the custom ad blocker rule(s) and the page will load as expected.