The Daily Reward is a free reward you can claim every day by using the Keys of Darwin. The more you play, and claim, the lower gauge will fill and you get a chance of winning better rewards.
Rewards for Bronze Magnetic Keys
Needs information

 Rewards for Silver Magnetic Keys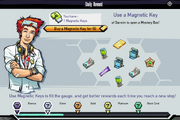 10x Exprience Bars
2x Campain Pass x1
Rewards for Gold Magnetic Keys
Needs information

Rewards for Platinum Magnetic Keys 
Rewards for Black Magnetic Keys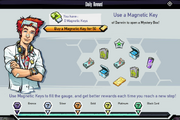 4x Exprience Drinks
2x Campain Pass x5
5x Campain Pass x5
2x Big Med Pack
5x Big Med Pack
Ad blocker interference detected!
Wikia is a free-to-use site that makes money from advertising. We have a modified experience for viewers using ad blockers

Wikia is not accessible if you've made further modifications. Remove the custom ad blocker rule(s) and the page will load as expected.