Cyber Punk

General Information
Genes
Ability
Wound
HP
933
Speed
7.69
Category
Breedable?
Elite Versions
Cyber Punk is a Legendary Cyber-Saber mutant. It was sold in the VIP Pack which includes 2,000

and Cyber Punk mutant in its basic version for $19.99 USD.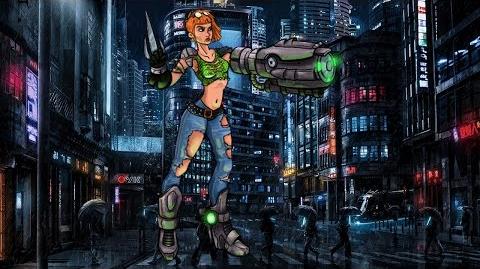 Appearance
As her name implied, she appears to be a punk-style woman with torn jeans and blouse, equipped with a large laser cannon on one arm and a bayonet strapped to her wrist on the other arm. She is also wearing cybernetic boots.
Stats
Attack: Very Low
Life: Average
Speed: Very Fast
Attacks

Ares MP Laser

Cyber-Limbs
Mutopedia Entry
"Although they look human, Cyber Punks were so pumped with Cybernetics that they have progressively lost all their humanity and sunk into madness."
Trivia
Her name could be based on Cyberpunk, a subgenre of science fiction.
Her Gold version looks like fusion between Cassie Cage and Jacqui Briggs from Mortal Kombat X
Her Platinum version strongly resembles Furiosa from Mad Max Fury Road
Gallery
Ad blocker interference detected!
Wikia is a free-to-use site that makes money from advertising. We have a modified experience for viewers using ad blockers

Wikia is not accessible if you've made further modifications. Remove the custom ad blocker rule(s) and the page will load as expected.