Colossus is a breedable Cyber-Galactic mutant.
Its larva can be obtained by crossbreeding a Robot with an Alien; or it can also be purchased in the Shop.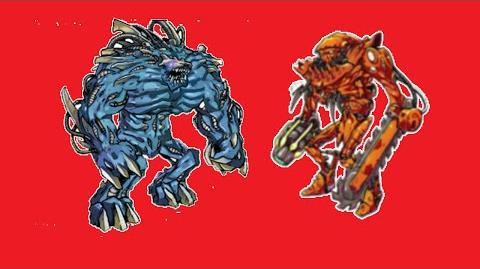 Appearance
Colossus is a blue-skinned hulking creature with tons of cables and metal shards stuck on its body. The metal shards adjoined with its body form its toes, claws and knuckles. It has a metal plate on top of its head, blue eyes and mouth full of sharp teeth. It apparently has a second row of bottom teeth inside its mouth.
Stats
Attack: Cataclysmal
Life: Tank
Speed: Slow
Attacks

Electro Punch

Meteor Smash
Biography
Solar rays twisted and focused on base genes help create this hulking monstrosity. This colossus creature pulls no punches and his star move literally rips the stars out of the sky!
Possible references
It is probably a nod to Doomsday from DC comics, the one who killed Superman.

It also shares several similarities to the Superman villain Equus.

The mutant reactor is a nod to the Hulk from Marvel comics.
Gallery
Larva