Colossus

General Information
Genes
Ability
Shield
HP
1098
Speed
4.35
Category
Breedable?
Yes
Colossus is a breedable Cyber-Galactic mutant.
You can crossbreed a Robot with an Alien to have a chance at obtaining a Colossus larva. You can also purchase a Colossus larva in the Shop.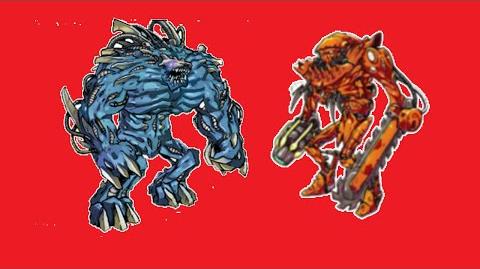 Appearance
Appears to a blue-skinned hulking creature with tons of cables and metal shards stuck on its body. The metal shards form its toes, claws and knuckles. It has a metal plate on top of its head, blue eyes and mouth full of sharp teeth. It apparently has a second row of bottom teeth inside its mouth.
Stats
Attack: High
Life: Average
Speed: Slow
Attacks

Electro Punch

Meteor Smash
Mutopedia Entry
"Solar rays twisted and focused on base genes help create this hulking monstrosity. This colossus creature pulls no punches and his star move literally rips the stars out of the sky!"
Trivia
It is probably a nod to Doomsday from DC comics, the one who killed Superman.
The mutant reactor is a nod to the Hulk from Marvel comics.
Gallery
Larva

Ad blocker interference detected!
Wikia is a free-to-use site that makes money from advertising. We have a modified experience for viewers using ad blockers

Wikia is not accessible if you've made further modifications. Remove the custom ad blocker rule(s) and the page will load as expected.