Ceres

General Information
Genes
Ability
Boost
HP
724
Speed
12.66
Category
Breedable?
Elite Versions Only
Ceres is a Legendary Galactic monogene mutant. It was sold in the Shop in its basic version for 700

.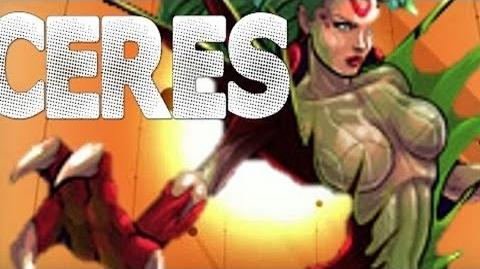 Appearance
Ceres is a woman with plant like hair and clothes.both of her hand only have 4 clawed fingers instead of 5.
Stats
Attack: Very Low
Life: Weak
Speed: Faster Than Light
Attacks

Fatal Breeze

Mind Bloom
Mutopedia Entry
"Ceres is born in a thorny rosebud. Primordial goddess of spring, she fights winter with a ferocity to give the soil its fertility and abundance back. She breaks her enemies with her mastery of air and her revival thirst."
Trivia
This mutant is the first mutant with 12.66 speed in the game. The Pugnisher is the second.
This mutant is the first Legendary mutant to have only one gene.
This mutant's Silver version resembles Poison Ivy, a villain from the Batman comics.
This mutant's name is taken from Roman goddess Ceres, also known in Greek mythology as Demeter.
Gallery
Ad blocker interference detected!
Wikia is a free-to-use site that makes money from advertising. We have a modified experience for viewers using ad blockers

Wikia is not accessible if you've made further modifications. Remove the custom ad blocker rule(s) and the page will load as expected.