Cerberus

General Information
Genes
Ability
Wound
HP
964
Speed
5.88
Category
Breedable?
Yes
Cerberus is a breedable Zoomorph-Necro mutant. It can be obtained by breeding a Beast and a Zombie.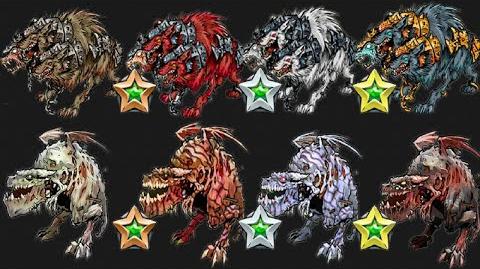 Appearance
Cerberus is a large three-headed dog, bound by chains with armor plates on its several necks and back. One of its heads appears to be decomposing.
Stats
Attack: Low
Life: Average
Speed: Fast
Attacks

Portal Shred
Fires of Hell
Mutopedia Entry
"Guarding the gates of Hades just wasn't enough for this oversized pooch. This fearsome opponent will scare you back to the underworld and as for strategy they say two heads are better than one, so what about three !"
Trivia
Cerberus is a reference to the mythical creature of the same name, also known as Kerberos in Greek.
Gallery
Ad blocker interference detected!
Wikia is a free-to-use site that makes money from advertising. We have a modified experience for viewers using ad blockers

Wikia is not accessible if you've made further modifications. Remove the custom ad blocker rule(s) and the page will load as expected.