Cézanne is Legendary Zoomorph-Saber mutant which was only be obtained by winning this mutant in the Mutants Slots for a limited time. It is currently available in a one-time offer for 500

available when hitting Fame Level 21.
Breeding this mutant is like with all Legendary/PvP-exclusive mutants, you can duplicate or breed elite versions of Cézanne by breeding him with another mutant that shares at least one of his genes.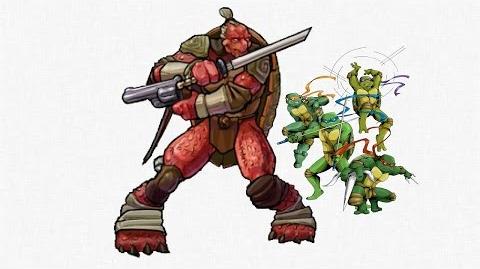 Appearance
Cézanne is an anthropomorphic turtle brandishing a katana and a revolver. A clear nod to the Teenage Mutant Ninja Turtles. Going with the way the Turtles are named (artists), this mutant is named after Paul Cézanne, a French artist and painter.
Stats
Attack: Cataclysmal
Life: Tank
Speed: Very Slow
Attacks

Mario's Pizza

Extra pepperoni
Biography
After devoting years to the teaching of Ninja, Cézanne has joined the arena to test his skills against other mutants. When the evil Baron Urban attacks, Cézanne won't cut him no slack.
Trivia
As said in the Appearance, this mutant is a clear nod to the cartoon show Teenage Mutant Ninja Turtles. This is supported due to the names of the attacks, in which pizza is a favorite dish of the TMNT.
Gallery