The Bug's King is a Legendary Mythic-Galactic mutant which can be obtained by buying either the Mythic Box for 550

or the Gold Version for 2,100

.
In June, 2016, it could be obtained by purchasing the Bug's King Veteran Pack for $19.99 USD, which contains the Basic version, 20

and 2,600

.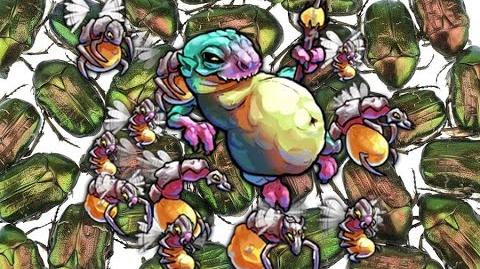 Appearance
Edit
The Bug's King appears to be a frog-like creature with elf ears and a big belly sitting on a throne made of bugs that resemble pre-mature Parasite Queens. He also wields a staff with a stinger on top.
Attack: Destructive
Life: Tank
Speed: Intermediate

Killer swarm

Explosive bug cloud
Biography
Edit
His favorite dish is roasted fairy and mushroom pie. He became king of the insects by taming swarms and training them to hunt breakfast for him. Then, by dint of training his little critters, he acquired a taste for fighting, and never misses an opportunity to sink his teeth into something - anything, really!
Bug's King and Bazzinger have the exact same stats, ability and primary genes, but different secondary genes (Cyber for Bazzinger and Galactic for Bug's King).
His Platinum version could be based on the Great Goblin from The Hobbit.