Britany is a Legendary Necro-Mythic mutant. She was initially sold in the Shop for $4.99 in her basic version on Facebook and for $3.99 on mobile devices. She was later sold for 1,500

in her Gold version.
In August 2016, the Paladin version was released for the third anniversary of the game and was sold in the shop for 2,500

for a limited time.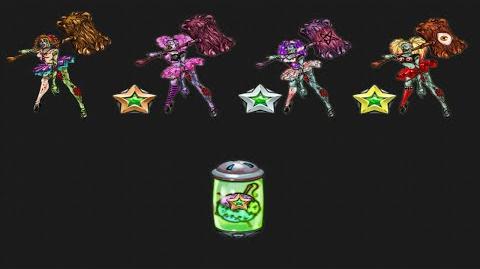 Appearance
She is a zombified woman in high heels and a schoolgirl's outfit wielding a large demonic hammer.
Stats
Attack: Cataclysmal
Life: Tank
Speed: Very Slow
Attacks

French Manicure

To Wake the Dead
Biography
Even mutants deserve some romance and The Experiment couldn't be left alone! He thrills the arena's audience so much that the supervisors have decided to introduce for him Britany, a zombie girl completely made up for this special occasion! Watch out! Under the appearance of a frightened schoolgirl, she's one of the most destructive specimen, thanks to her overpowered spread attack!
Trivia
The concept behind this mutant was inspired by the Bride of Frankenstein, although she has more resemblances to famous female pop stars:

Her basic version resembles Britney Spears from her Baby One More Time album.
Her Bronze version slightly resembles Nicki Minaj from her Pink Friday album.
Her Silver version slightly resembles Katy Perry from California Gurls and Teenage Dream albums.
Her Gold version resembles Harley Quinn from DC Comics as well as Christina Aguilera from her Lady Marmalade Album.
Her weapon in her Gold and Platinum form resemble the Soul Edge from the Soul Calibur series.

She is the 2nd mutant in the game to possess two spread attacks with different genes.
She is also the mutant with the strongest spread attack in the game.
Gallery