Bounty Hunter is a Legendary Monogene Cyber mutant which can be obtained by buying the basic version for limited time for 12,000,000
.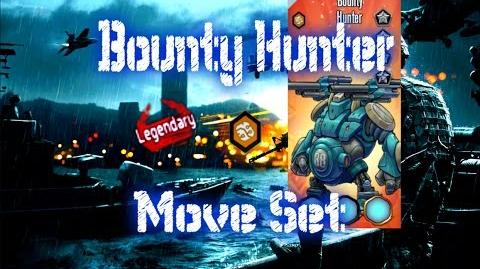 Appearance
Edit
Bounty Hunter is a blue bipedal robot with two large guns located on its shoulders. It also has a number "88" on its belly.
Attack: Very High
Life: Tank
Speed: Intermediate

Hunter's Shot[1]

Cyber Burst[2]
---
↑

Both cannons on Bounty Hunter's back rapid fire rounds into the enemy.

↑

The two cannons and an extra on Bounty Hunters back aim into the sky. They each shoot an explosive round, which land on each enemy.
Biography
Edit
This cyber-bounty hunter haunts arenas searching for Psy-Captains who have run into debt. His equipment enables him to track down his enemies and annihilate them if they refuse to cooperate. He is gathering credits in anticipation of his retirement, in the hope of not winding up in a scrapyard.
This mutant is the second Legendary mutant in game that is Monogene. The first is Ceres.
If you look in this mutant's belly in its Gold version, you will see "The Decepticon" logo from Transformers.