Blade Banshee

General Information
Genes
Ability
Retaliate
HP
936
Speed
6.25
Category
Breedable?
Yes
A Blade Banshee is a
Rare
mutant. You can crossbreed a 
Warrior
 with a 
Zombie
 to have a chance at obtaining a Blade Banshee larva. You can also purchase a Blade Banshee larva at the Shop. For a higher chance, try breeding 
Nordic Knightmare
 + 
Zombie
, 
Warrior
 + 
Leech Lord
, or
Dire Despot
+
Nordic Knightmare
.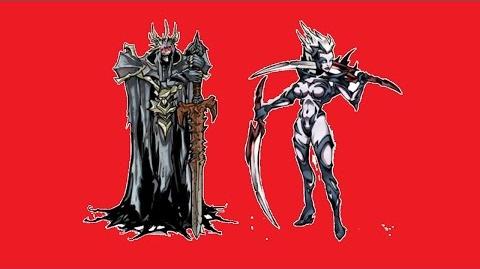 Appearance
Blade Banshee looks like a female ghost who's holding two swords. The swords changes depending on its elite version.
Stats
Attack: Low
Life: Average
Speed: Fast
Attacks

Scissor Slash

Wicked Uppercut
Mutopedia Entry
"She's got moves, she's got curves, she cuts her opponents to pieces. What's not to love in this pale skinned beauty? Did we mention she's a necro? So if you like your 'gals' cold and 20 feet tall you're in luck."
Trivia
The Girl Power version of a Blade Banshee looks like Ivy from Soulcalibur.
Based on her canister, and general looks, she might draw inspiration from Witchblade.
Gallery
Ad blocker interference detected!
Wikia is a free-to-use site that makes money from advertising. We have a modified experience for viewers using ad blockers

Wikia is not accessible if you've made further modifications. Remove the custom ad blocker rule(s) and the page will load as expected.