Behemoth is a PvP/PvE exclusive Galactic-Saber mutant. As with all PvE/PvP exclusive mutants, it can only be upgraded by crossbreeding itself with another mutant which shares one of its genes.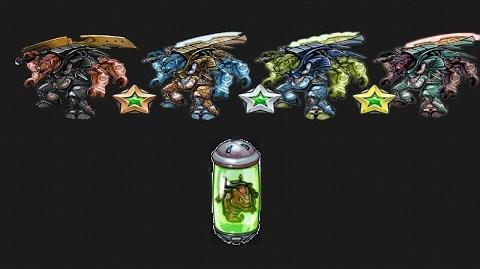 Appearance
The Behemoth has four arms, is bipedal and carries a large cleaver with a long blade. It wears a heavy armored suit which seems to serve for its primary attack.
The elite versions of this mutant change their skin and suit colors as well as minor changes in its cleaver-like weapon.
Stats
Attack: Cataclysmal
Life: Tank
Speed: Very Slow
Attacks

Plasma Swarm

Meat Cleaver
Biography
This Race of four armed creatures used to be the greatest Blacksmiths in the galaxy famous for their crafted weapons and armor. That all changed when one day they decided to make unique sets just for themselves and began using their strength and dexterity in Gladiatorial combat events.
Trivia
He looks like a mix between the aliens Humungousaur and Four-arms from Ben 10.
This mutant is named after a Biblical mythical creature with the same name (Not to be confused with Bahamut from ancient Arabian/Islamic myth which is named similarly)
Gallery
Larva