Beast is a basic Zoomorph monogene mutant.
Availability
There are two ways to get this mutant:
Buy a mutant including a Zoomorph gene in the Shop. Then cross-breed it with other mutant for get another Zoomorph mutant. And cross-breed it with a bred Zoomorph mutant in order to have a chance to breed it.
It can be bought for 25,000 in the Shop after defeating the campaign boss in Alpha Division of Mexicopolis - Hasta Lucha Dome in first time.
Appearance
Beast is an anthropomorphic mammal creature who's characterized as a werewolf which is implied in its second attack Lunar Infusion. It wearing chain gears on its upper body and pants on its lower body. In its one arm tangled in chain, it equips a gear in its shoulder which's consist of metal layers and a skull jammed in there.
Stats
Attack: Medium
Life: Average
Speed: Intermediate
Attacks 

Mad Maul
Damage: 276
Upgrade: 414[1]

Lunar Infusion
Damage: 276[2]
Upgrade: 414
---
↑

Beast advances on the opponent, performs a scratch with its left hand, then bites off and punches with the right hand.
↑

Beast invokes a moonbeam and cause damage to the opponent.
Biography
The Beast, the ultimate predator, there is no escape from the savery animal cunning contained in these mutants. Maybe you wouldn't want a beast as a pet but every psy-captain wants one in his team.
Trivia
Both the basic and Gold versions resemble Sabrewulf from the Killer Instinct series, with the basic version resembling Sabrewulf from the original Killer Instinct and the Gold Star version resembling Sabrewulf's upgraded form in Killer Instinct 2.
Obviously inspired by the werewolf.
The colour of its shoulder armor and chains corresponds with the color of star it was used in breeding.
Gallery
Larva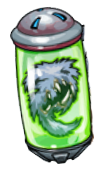 Ad blocker interference detected!
Wikia is a free-to-use site that makes money from advertising. We have a modified experience for viewers using ad blockers

Wikia is not accessible if you've made further modifications. Remove the custom ad blocker rule(s) and the page will load as expected.