Battle Toad is a Legendary Saber-Zoomorph mutant. As with all Legendary mutants, you can duplicate or breed elite versions of Battle Toad by breeding it with another mutant that shares at least one of its genes.
Battle Toad is able to be purchased in their basic version for 500

in the one-time Surprise Offer when a player reaches Fame Level 66.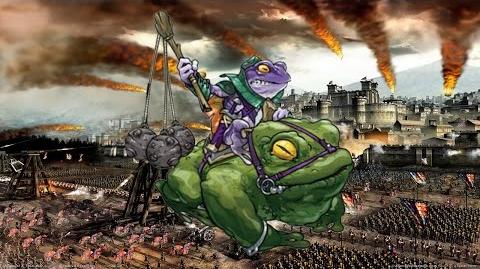 Appearance
Battle Toad is composed of two toads/frogs.
The smaller toad is a purple skinny toad and holds triple headed and non-spiky flail. It also have a sword in a scabbard on its waist. It also have green (probably a hood) cap on its neck going up to the head.
The bigger toad is a green fat and large toad, has buckle on its mouth. It also has a saddle on its back where the smaller toad seats.
Stats
Attack: Very Low
Life: Weak
Speed: Lightning
Attacks

Triple Flail

Kamikaze Tadpole
Biography
In another dimension, another time in space, Battle Toads are planet conquering warriors. Now they are here to conquer the Arena!
Trivia
Their namesake is derived from Rare's Nintendo videogame, Battle Toads.
Gold version is nod to frogs from Naruto Shippuden.
Gallery