Azuria

General Information
Genes
Ability
Curse
HP
1075
Speed
5.88
Category
Breedable?
Elite Versions Only
Azuria is a PvP/PvE exclusive Mythic-Galactic mutant. It can be obtained as a reward after completing 40 fights in PvE and/or finishing a Global Tournament PvP in the Experts bracket.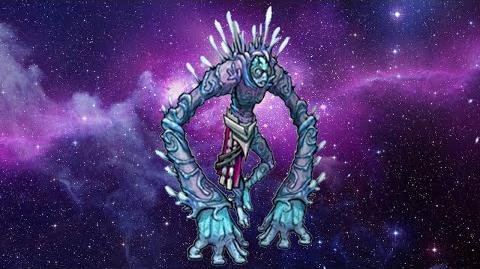 Appearance
Stats
Attack: Medium
Life: Average
Speed: Fast
Attacks

Round of Applause

Rock Fists
Mutopedia Entry
"The Azurians are a technologically resistant race from the planet Azuritia, a rich planet responsible for providing a rare blue mineral used to provide a clean source of energy for hundreds of others planets. A millennia of time spent mining this mineral has led the Azurians to evolve long arms and long hands giving them a unique attack style"
Trivia
This mutant slightly resembles Abe from Hellboy series.
His attack round of applause looks like the alchemy in the anime full metal alchemist
Its Halloween Skin version resembles Jack the Pumpkin King.
He is one of three"Fast" mutants to have Cataclysmal class attack in it's Gold Star version, the others being The Experiment and Apex
Gallery
Larva

Ad blocker interference detected!
Wikia is a free-to-use site that makes money from advertising. We have a modified experience for viewers using ad blockers

Wikia is not accessible if you've made further modifications. Remove the custom ad blocker rule(s) and the page will load as expected.