Autonorush is a Legendary Cyber-Mythic mutant. Its basic version and Gold version were purchasable in the Shop for 1,000

and 2,500

for each.
It is also obtainable in the Space Wars Reactor in an alternate Bronze version.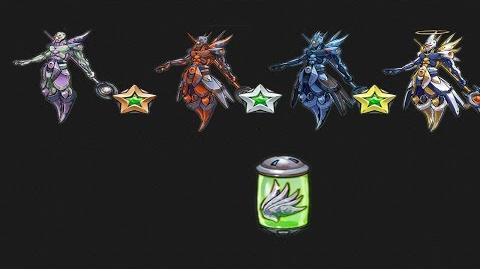 Appearance
Autonorush is a floating android holding a cybernetic staff which it uses to launch beams from for it's attacks.
Stats
Attack: Very Low
Life: Weak
Speed: Lightning
Attacks

Photon Strike

Magic Missiles
Biography
If you feel the need for speed, then nothing offers you more than the new 4.T.N.R.5.H. droid from Darwin's lab.  This speedy android nicknamed Autonorush can strike most mutants before they even get a chance to act.
Trivia
The mutant's overall look and the the color of its Bronze and Gold version is very similar to Gray Fox and Gray Fox(as the Cyborg Ninja) from Metal Gear series respectively.
Its Space Wars Reactor version resembles Boba Fett from the Stars Wars movies.
It is one of the first Legendary mutants to appear in a Reactor.
Gallery
Larva