Aran

General Information
Genes
Ability
Curse
HP
1040
Speed
3.85
Category
Breedable?
Elite Versions Only
Aran is a Heroic Saber-Galactic mutant.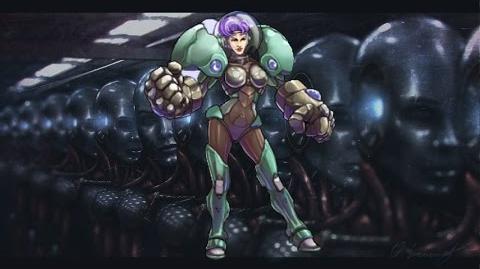 Appearance
Edit
Aran is a purple-haired woman in power suit with massive shoulder pads and space helmet. She is equipped with massive gauntlets with round gem on the back.
Attack: Destructive
Life: Resistant
Speed: Slow

Ultimate Fist

Obliteration
Mutopedia Entry
Edit
"Prototype of a military experiment, she wears an armor which makes three times her weight. The strength concentrated in her fists is such as powerful, she has to content herself in front of an enemy if she doesn't want to receive the shock waves of her own attack."
Her name is taken from Samus Aran, the protagonist of the Metroid series.
Her fists might be a reference to Vi from League of Legends.
Her visor in Platinum version resemenbles Project Yasuo from League of Legends.
Her fists may be inspired from Garnet's gauntlets from Steven Universe because of gem on the back of the fists.
Her Gold version´s suit is inspired by Samus Aran´s suit.
Ad blocker interference detected!
Wikia is a free-to-use site that makes money from advertising. We have a modified experience for viewers using ad blockers

Wikia is not accessible if you've made further modifications. Remove the custom ad blocker rule(s) and the page will load as expected.