Arachno

General Information
Genes
Ability
Wound
HP
1321
Speed
3.7
Category
Breedable?
Elite Versions Only
Arachno is a PvP exclusive Zoomorph-Cyber mutant.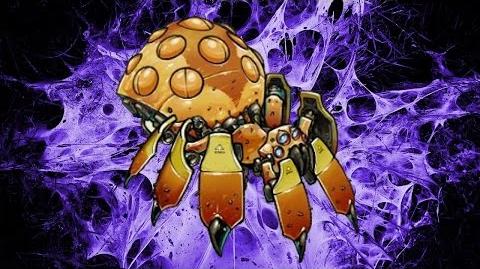 Appearance
It looks like a mechanical robot spider.
Stats
Attack: Destructive
Life: Tank
Speed: Slow
Attacks

Cyber Web

Arach Attack
Mutopedia Entry
"Be careful around this creepy-crawly cyber arachnid. Her web attack has adhesive power 100 times more strong than a regular spider, easily rendering her opponents immobile and rather sticky. Watch out for her mechanical babies which, although small, can overcome masses if not prepared."
Trivia
A tribute to Swarm Host, a Zerg unit from Starcraft 2 Heart of The Swarm, due to similarity in appearance.
The gold version looks like spider bites Peter Parker in the movie Spiderman
Gallery
Ad blocker interference detected!
Wikia is a free-to-use site that makes money from advertising. We have a modified experience for viewers using ad blockers

Wikia is not accessible if you've made further modifications. Remove the custom ad blocker rule(s) and the page will load as expected.